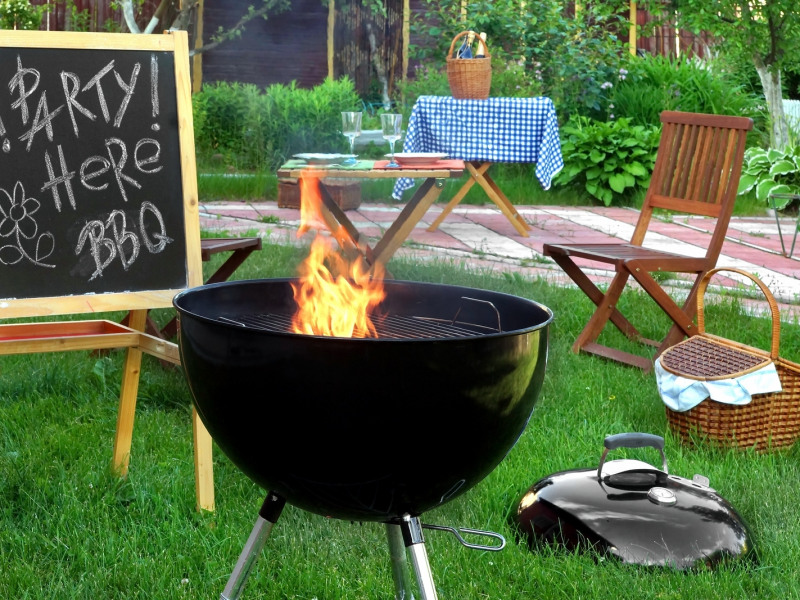 August 2, 2017
One of the highlights of warm weather is summer grilling. Just turning on the barbecue can signal that the good times are here. Make the rest of the season even more enjoyable by trying the following tasty barbecue recipes.
Hot Pepper/Onion Infused Burgers
No list of summer grilling favorites would be complete without a burger recipe. This one mixes in the spicy taste of pepper and onion.
Ingredients: 1 pound lean ground beef, 3 Serrano peppers and 1 small onion
To make: Cut the onion and pepper into small chunks. In a grilling basket, grill the onions and peppers until they are crisp tender; remove from the grill. Mix the grilled pepper and onion into the ground beef and form into patties. Grill the burgers to desired doneness.
Barbecued Shrimp
Seafood on the barbecue takes on a whole new dimension.
Ingredients: 1 1/2 lbs. jumbo shrimp with shells on, deveined; 3 tablespoons sea salt, 3 teaspoons freshly ground black pepper; 3 tablespoons fresh lemon or lime juice.
To make: Mix shrimp, lemon or lime juice, sea salt and pepper in a bowl; let shrimp marinate for 15 minutes. Oil the grill or put the shrimp in a grilling basket. Cook the shrimp until it's firm and pink.
Cheesy Grilled Potatoes
Love scalloped potatoes but don't want to heat up the house with a hot oven? Try this summer grilling recipe.
Ingredients: 5 potatoes, peeled and thinly sliced, 1 thinly sliced onion, 1 tablespoon chicken bouillon paste, 1/3 cup shredded cheddar cheese and 6 tablespoons butter.
To make: Prepare a 25 x 25-inch piece of heavy-duty aluminum foil by covering it with chunks of the butter. Mix the rest of the ingredients and spoon it onto the foil. Fold and seal the potatoes and grill for 40-45 minutes until everything is fork tender.
Grilled Mushrooms
Round out your meal with some grilled veggies, like these tasty mushrooms.
Ingredients: 1/2 pound button mushrooms, 1/4 cup (1/2 stick) butter, 1/2 teaspoon garlic salt, 1/4 teaspoon ground sage.
To make: Melt the butter and mix in the garlic salt and ground sage. Slide the mushrooms onto metal skewers. Using a pastry brush, coat the mushrooms well with the butter mixture. Grill for 10-15 minutes or until the mushrooms are fork tender.
Grilled Banana Boat
Top off your barbecue get-together with a tasty dessert, such as this mouthwatering selection.
Ingredients: 4 bananas, 1 cup semi-sweet chocolate chips, 1 cup mini marshmallows.
To make: Prepare four 8 x 8-inch pieces of heavy-duty aluminum foil. Cut bananas lengthwise, but not all the way through. Open bananas and insert 1/4 cup chocolate chips and 1/4 cup mini marshmallows into each. Fold one square of aluminum foil over one banana and seal; repeat for the remaining bananas. Grill for 20-30 minutes or until the chocolate and marshmallow is well melted.
At Inspect-All, we hope you make the most of backyard fun in the closing days of summer. If you find yourself bugged by pests during your warm-weather entertaining and would like some expert pest control service, give us a call.