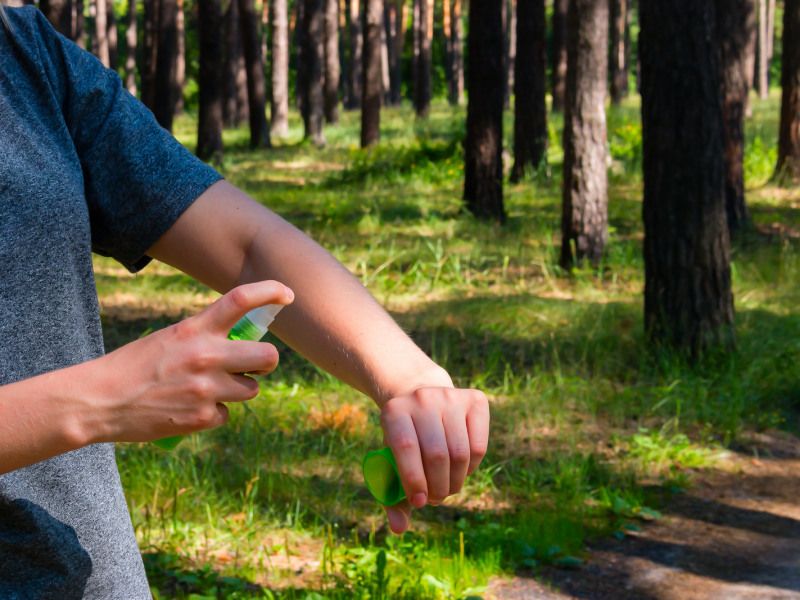 August 15, 2017
From summer parks to outdoor playing and grilling, having effective mosquito repellents on hand is a good idea. When the time comes to shop for a repellent, which products are really worth investing in? Here are the top repellent ingredients to watch for, and how to use them properly.
DEET
DEET is one of is the most common active ingredients in insect repellents. It's a compound that uses N,N-diethyl-meta-toluamide which confuses mosquitoes trying to sense sources of blood to harvest, and it can be very effective when properly applied. If you're heading into an area with a large population of mosquitoes, such as hiking near a river or lake, a product containing DEET is probably your best option. However, the odor and taste are unpleasant, so it's not the best option for a picnic or a backyard party. Look for solutions that have around 15 to 20% concentration of DEET. Especially high concentrations can irritate the skin and senses, and lower concentrations don't work as well. That's just one reason homeowners choose pest control professionals like Inspect-All Services to eliminate mosquitoes.
Picaridin
This chemical is a synthetic replication of a compound found in black pepper. It's an excellent choice for adults who want long-term protection from mosquitoes and ticks for a long afternoon of hiking or fun, and it doesn't have the same unpleasant odor that DEET has.
However, there are two points to remember when buying picaridin products. First, Consumer Reports notes that mixtures with around 20% concentration are very effective, but those with lower solutions don't do much at all. Second, picaridin can be an irritant and may irritate the skin and eyes, especially when it comes to infants and people with sensitive skin.
Concentrated eucalyptus
If you don't like synthetic chemicals, Eucalyptus may be a good option for you. Eucalyptus is one of the few plants to exude truly effective mosquito repellents at concentrations around 30%. Eucalyptus oil has been proven very effective at discouraging mosquitoes. This natural option makes a lot of sense for backyard protection and other more casual scenarios in which you don't want strong chemicals on your skin.
The main goal here is to ensure you have a mixture that contains eucalyptus oil, and not some other type of oil. Lemon, cedar, citronella, lemongrass and peppermint are all common but do little to nothing against mosquitoes by themselves.
IR3535
IR3535 is a chemical that attempts to replicate the properties of an amino acid. It is effective against mosquitoes, especially Culex mosquitoes, but tends to last only a few hours for more general protection, making it less useful unless your primary goal is to avoid unpleasant smells. IR3535 is not associated with any adverse effects but read the product label carefully and follow the application instructions.
Best brands
Although several chemicals have been mentioned, brands have not been discussed. Specific brands aren't really important when it comes to looking for mosquito repellents; their ingredients are the key. Popular mosquito repellents are easy to find, but remember to look at ingredients and their concentration level instead of brand names.
If mosquitoes are a long-term problem near your property, contact Inspect-All Services about mosquito reduction options.