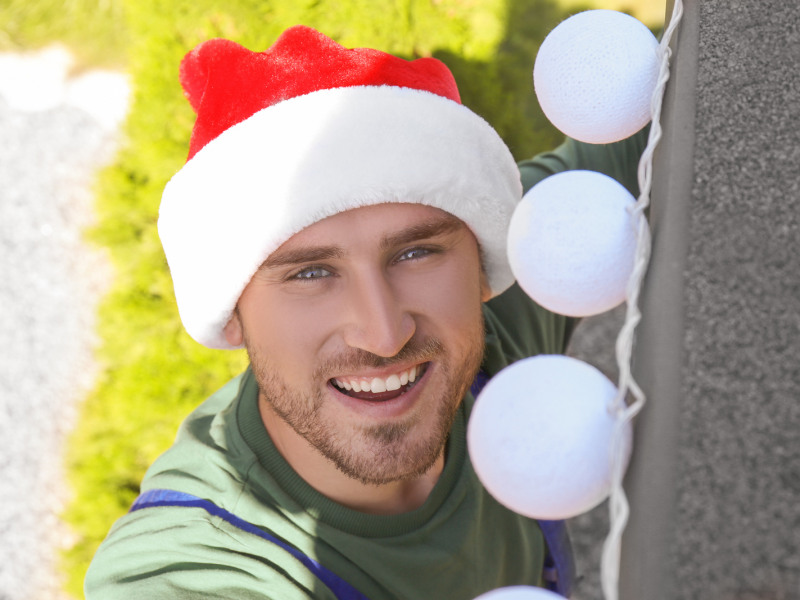 December 21, 2017
This holiday season, you might be tempted to pull out all the stops. But while everyone wants to have the best-decorated house in the neighborhood, it's important to practice decorating safety. Don't put your family at risk or ruin the holidays before they start. Beyond making sure your ladder is secure, here are three ways to make sure your outdoor holiday decorations don't cause any safety issues or emergencies.
1. Triple-Check Your Lighting Equipment
Light strands are notorious for having problems, such as burnt out or broken bulbs. Beyond the inconvenience, however, lighting is a major issue in decorating safety. According to the Electrical Safety Foundation International, holiday lights start approximately 150 fires per year, on average. Be sure to replace any lighting strands that may have loose wiring, poor sockets or burnt-out lights. Follow the Consumer Protection Safety Commission light safety guidelines to make sure that your outlets don't become strained and stay protected against any potential surges. Lighting is the most dangerous aspect of a lot of holiday decorations, so it's crucial to give it proper attention.
2. Turn Off Your Lights Before Bed
While it can be tempting to leave your display to shine all through the night, this can be a dangerous habit. If the worst-case scenario occurs, you won't be able to stop anything until you awaken in the middle of the night to the smell of smoke. Pick up an outdoor light timer so you can set the time and not have to remember to turn off your lights every night. You can find timers at hardware stores and other retailers.
3. Use Flame-Resistant Materials
When you're setting up your display this season, make sure that the material you use isn't prone to catching fire. The wrong ornaments, garlands or other flammable materials placed in the wrong spot can be a disaster waiting to happen. Outdoor decorations are fun, but a single flame can potentially burn down an entire house. Make sure you're using flame-resistant materials whenever possible.
With these decorating safety tips, you should be ready to make your home as festive as possible. But if you are concerned about safety, be sure to take every precaution to protect yourself and your family. If you need a second opinion or want help making sure your festive vision aligns with proper safety procedures, don't hesitate to contact Inspect-All. They have the expertise to inspect your home so you can truly deck the halls.