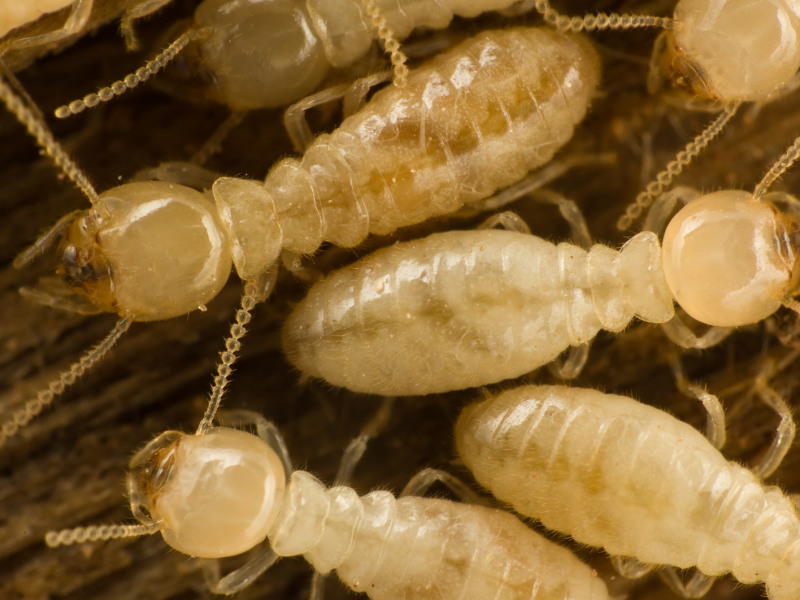 December 28, 2017
Every year, termites cost American homeowners over $5 billion in damage, according to the National Pest Management Association. To reduce the need for costly home repairs, early detection is vital. Termites eat into the wooden structures of homes, causing significant damage to floors, foundations, walls, ceilings, porches and much more.
If your home is infested you will need to call a professional right away, so keep an eye out for these five signs that you have a termite colony living in your walls.
1. Hollow Wood
A common misconception about termites is that they eat the wood's surface. In fact, termites prefer to burrow deep into the wood, since they prefer dark areas. Wood that is infested with termites will often sound hollow if tapped. Wooden window and door frames may also appear misshapen, but sometimes there is no external evidence that the termites are present.
2. Clicking Noises
Listen carefully and you might just hear your termite infestation. Termites make a gentle clicking noise when they're alerting their friends that a human is nearby. They create this sound by hitting their heads or bodies against the wood. Termites are also extremely noisy eaters. If you press your ear to the wall, their munching and crunching are sometimes audible to human ears. Time to call the exterminator!
3. Swarmers
Newborn winged termites appear every spring. Their tell-tale pattern of leaving the nest by the dozens has earned them the nickname of "swarmers." If you see these swarmers around your property or in the neighborhood, there's a definite chance that they're heading straight for your home. It's worth booking a free inspection, just to be safe.
4. White Ants
Certain species of termites look like "white ants." These cream-colored insects can easily be confused with ants, but it's important to remember that no translucently white shade of ant exists in nature. Termites also have thicker midsections, straight antennae, and their two sets of wings are identical sizes. These characteristics differ from ants, which have a visible waist, bent antennae, and one set of wings that is noticeably smaller than the other.
5. Wall and Ceiling Damage
In certain cases, walls and ceilings can show signs of termite activity. New wall cracks could signify that termites are devouring your wall's internal timber, causing damage to the external surface. Similarly, termites also attack your beams, rafters and framed openings, which can lead to additional, unexplained cracks.
If you suspect you have termites, contact our professional pest control team at Inspect-All. We can quickly and efficiently discover whether your home is afflicted with these destructive pests, and then act immediately to remedy the situation.