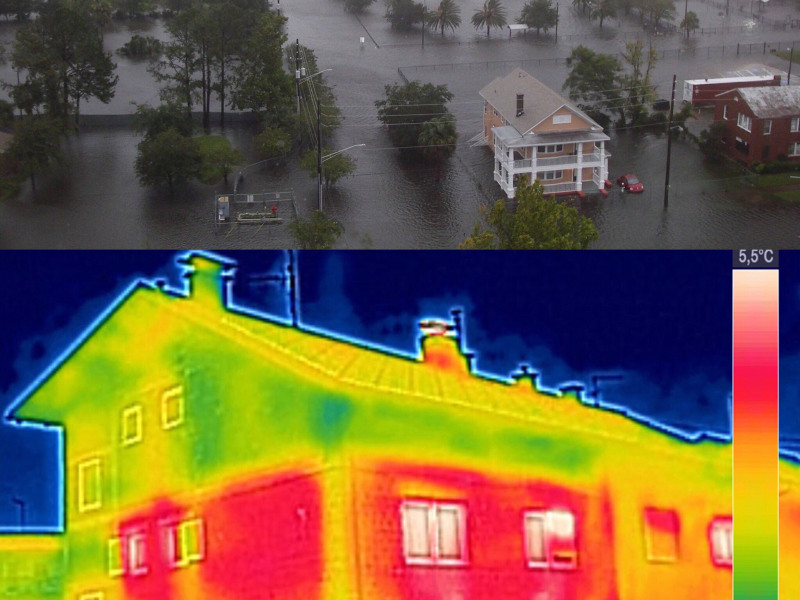 September 14, 2017
As our community recovers from the devastation of Hurricane Irma, our focus is to help manage the impacts for property owners. Even if your home appears relatively unscathed by water damage, you could still face long-term problems if your house suffered from even a small amount of moisture. Here, we'll talk about a common moisture-related hazard – mold – and how infrared detection can assist in locating this dangerous fungus within your home.
Moisture and mold after Irma
Homes that have been evacuated after Irma are particularly susceptible to moisture and mold damage, but even homes that seem to have minor damage can still fall prey to detrimental mold issues. According to The Washington Post, mold was discovered in half of the 112 water-damaged homes they studied two months after Hurricane Katrina. Mold can bring about symptoms varying from allergic reactions, to, if it is a particularly damaging strand, death.
Luckily, if water damage is dealt with quickly, mold will not have enough time to grow. If your home is water damaged, fans, dehumidifiers, and non-damaged HVAC systems can be used to dry out this moisture. Another problem arises here, though. While you may be able to dry out the visibly wet parts of your home, other places could be hiding excess moisture from view. Hidden moisture can lurk beneath floor or ceiling tiles and behind walls, just to name a few places. These moisture leaks may not be visible to the naked eye, but they can still lead to growth of harmful mold.
Using infrared technology to detect moisture
Moisture can be difficult to find in non-obvious places in your home. For example, leaks may not be visible to the naked eye if they are behind or under ceramic or wood tiling. Luckily, this innovative technology can help home inspectors detect moisture throughout the house before it becomes a problem.
Infrared technology works by allowing home inspectors to view temperature differences throughout your home. Each range of temperature is detected with a distinct color; for example, cool temperatures are detected in a dark purple, while hotter temperatures are displayed in a light yellow. When wet spots are in your home, they are subject to a movement of air, or a cooling effect. Thus, the infrared technology does not see moisture, but instead sees a difference in temperature – with moisture, a cooler temperature – in relation to the spaces around it. As a result, Inspect-All professionals can often detect where your excess moisture lurks.
Inspect-All Services also uses this technology to detect problems like electrical hot spots that could cause damage, pest infestations and energy inefficiencies, along with the most pressing check for moisture damage. Inspect-All Services provides professional infrared scans by certified home inspectors. Protect your home from hidden moisture with an Inspect-All Services infrared scan today.